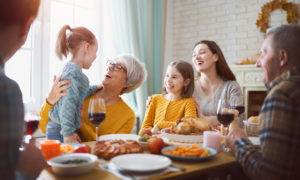 Family is gathered once again for the holidays. The house is filled with the smells of delicious family favorite foods on the table. There's football on the TV in the living room. Grandma and Grandpa talk, and everyone listens to stories of holiday traditions from their childhood. It sounds so peaceful and idyllic, doesn't it?
I suppose it does if your only responsibility is to show up with a smile. But if you're the one responsible for preparing the meal, buying presents, and cleaning the house so that everyone else can bask in the holiday magic, it probably sounds exhausting.
The holiday season can already be a stressful time with responsibilities that go above and beyond the usual. The idea of making your entire house shine to provide a perfect canvas for the holidays to be painted on can be downright overwhelming.
In this blog post, we're going to provide five tips for getting the most out of the time you have available to clean for the holidays.
Tip #1: Have Your Carpets, Area Rugs, Tile Flooring and Upholstery Professionally Cleaned Before the Holidays
Nothing quite matches the "Wow" factor of professionally cleaned floors and upholstery, especially if it's been a while since the last time it was done. With professional help focused on your floors, you'll be able to direct your attention elsewhere knowing one of the biggest projects is taken care of.
The Sams team is here to get your carpets, area rugs, tile flooring, and upholstery looking as fresh as possible for your guests this holiday season.  We are only a click or phone call away to get your scheduled.
Tip #2: Repair Damaged Carpet and Remove Stains
Many people don't realize it, but replacement isn't your only option for overcoming stained or damaged carpet.  In addition to carpet cleaning, Sams can also repair damaged carpet and remove stubborn stains. We've seen customers amazed at our technicians' ability to repair seams, burns, and snags. We've taken on spots and stains that customers have all but given up on, and gotten the carpet looking as good as new.
We can help with damaged or stained carpet before the holidays, but make sure you contact us early to ensure availability.
Tip #3: Break Up the Work into Smaller Tasks
There is an undeniable satisfaction that comes with starting and finishing a job all in the same day. But that can also be overwhelming, and lead to that big job being put on the backburner until it's an emergency.
Instead, make a list of all the cleaning tasks you need to get done and prioritize them. As breaks arrive in your busy holiday schedule, pull out the list and pick an item or two to check off. Tackling your holiday cleaning activities in 30-, 60-, or 90-minute chunks can make the process way more manageable and help ensure it actually gets done.
Tip #4: Focus Your Attention Where it Matters Most
Of course, in a perfect world, you'd have time to scrub the entire house top to bottom to prepare for visitors. But unless any of them will be overnight guests, most of your holiday company will only see a portion of your home. So while we don't encourage the "sweep and hide" method long term, the bulk of your attention should be on the parts of your home that will receive the most traffic: kitchen and dining room, main living area, and any nearby bathrooms. Bedroom and closet doors can be closed if need be.
Tip #5: Hire a Cleaning Company
Sometimes even these tips aren't enough. That's ok. Research local cleaning companies and find someone to help prepare your house for the holidays. Read reviews online to make sure you're hiring someone you can trust. Better yet, ask close family and friends for a referral.  Get an estimate up front to avoid unexpected charges. Even if ongoing cleaning services aren't in your budget, there's no better time than the holidays to treat yourself to some much-needed one-time support.
If you're preparing for visitors this holiday season, make Sams your first call. We'll take on your flooring and upholstery, two of your biggest holiday house cleaning projects, so you can enjoy the season and time with family.