"It's a great day at Sams Carpet Cleaning and Repairs!" If you've called into our office and heard this greeting, there's a good chance that Jessica is on the line with her welcoming voice. But her service and commitment to you doesn't stop there. Jessica wears many hats at Sams! So when you see a yellow Sams van out on a job, you can be assured that Jessica played a role in making sure the process went smoothly from start to finish. And now, without further ado, we present to you the ever-helpful, hard-working, customer satisfaction expert – Jessica!
What is your role at Sams?
I am the administrative assistant at Sams, which means I manage a variety of tasks and responsibilities in the office. I answer the phones, update schedules, gather all the estimates and send out letters to the property managers at the apartment complexes we clean on a regular basis.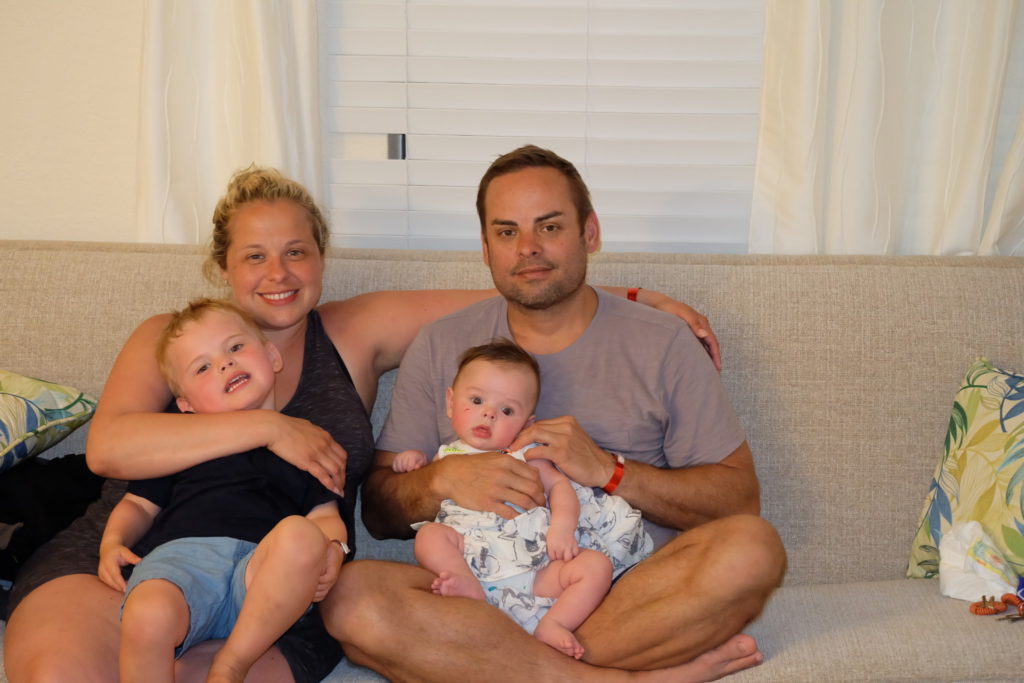 What do you like about working at Sams?
I think we can't say this enough, but Sams is like a family! The environment is light-hearted and supportive which makes working here fun. I recently had a baby, and I was able to take time with my child on maternity leave and work with the other employees to get all of my tasks done so we did not miss a beat – that's what any family would do!
What makes working here fun?
Just like a family we have so much fun joking around and spending time together, but we also pull together to get all of the work done. Like any job there can be stress, but the stress is eased by our fabulous team and the way that we all work to make each other's jobs efficient.
What are your hobbies?
I adore spending time with my growing family. I have a 5-month-old and a 4-year-old who keep me very busy.  Some of our favorite things to do are going to the zoo, Grant's farm, the park, and of course Cardinals and Blues games. In fact this year we took my son to his first Blues game!
What do you like about the Sams Customers and their experience with you?  What do you feel you bring to that experience?
One of the things that I love is working with our customers to ease them through the process when they call. I am usually the first person they speak to at Sams and when I pick up the phone, I want them to feel comfortable and happy. I like to think of everybody as being a family member of mine when they call.
What is the best about working with your peers and why?
I know that I said it before, but we are all like a family. This is one of the best parts of working for a locally owned family business – the values that Sams has are clear in the way we all work. When anyone's going through anything, everyone jumps in to help. For example, if someone needs to go take some time off, we all work together to make that happen. We genuinely care about one another and are there to help in stressful times and to celebrate and joke during the rest of the time at work.
Your greatest accomplishment with Sams?
I feel like I have a lot of responsibilities and I am able to tackle them all. I am honored that Jeff and Susan trust me with all of my responsibilities on a daily basis and they know it will get done correctly. I know that I am valued as an employee and that makes coming to work an enjoyable experience. I have even had the opportunity to go with Susan to several conferences at the Chamber of Commerce.
What do you want to keep learning about in the job?
As we move to a more digital platform, I am learning how to manage that process and help make that transition seamless.
Name 4 words that tell us about you? 
Honest, dependable, hardworking, friendly
Do you participate in any community/nonprofit organizations?  
I am a proud member of the Bolivian society of St. Louis. My mom is from Bolivia and my grandfather founded the Bolivian society of St. louis.
A big thank you to Jessica for taking time to share her Sams story! We hope you enjoyed the opportunity to get to know the voice behind our "great day" greeting. Next time you call into Sams, be sure to say hello to Jessica!