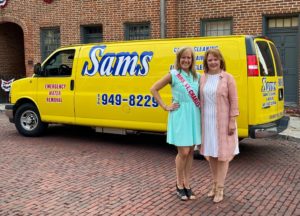 There are 120,000 kids in the United States waiting to join their forever family. In Missouri alone, there are 1,500 adoptable children in the foster care system.
As a longtime supporter of this community where we live and work, Sams Carpet Cleaning and Repairs is partnering with Marcy Bursac, a St. Charles-based author, podcast host and adoptive mom of two birth siblings. Marcy is working to build awareness for and give a voice to children in foster care. We fully support her mission to demystify foster care adoption, an affordable way to give these children a more promising future.
From an early age, Marcy knew she wanted to grow her family through adoption someday. She shared this desire with her husband before they married. Her husband, whose grandfather was orphaned and separated from his birth siblings at an early age, had often wondered what his grandpa could have accomplished with his natural artistic ability if he'd had a family to nurture it and support him. He knew the impact they could have on the lives of children through adoption and was compelled to provide it.
Telling Her Story, Finding Her Voice
When their children moved in with them, Marcy and her husband were told they would be fostering them for 4 months while waiting to schedule a court date. In reality it took 18 months- twice as long as it takes to deliver a biological child. Throughout the adoption process, Marcy blogged about their experience. She noticed early on that she was attracting readers in growing numbers, but nobody was reaching out. She felt like people were peeking in on their experience to learn, but not raising their hands to ask questions they likely had.
While many of us had transformative moments through the COVID-19 pandemic, Marcy's transformation led to her finding her calling. Early on in the pandemic, she was overwhelmed with stories about pet shelters left empty as families were adopting dogs and cats at record rates. Marcy is a big supporter of pet adoption. Her own family includes three rescue dogs. But it was difficult to see these stories and not think about the thousands of children in foster care not getting the same opportunities.
Helping Others Understand the Process
There are many preconceived notions people have about adoption. One is that it's expensive. It's true that domestic or international infant adoption can cost $30,000 or more. But the total cost of adoption through foster care typically adds up to less than $2,500. Another is that the process of adoption is long, messy, and filled with potential heartbreak. While the process of finding a child can take up to five years with international adoption and seven years with domestic infant adoption, adopting through foster care typically takes 6 to 18 months.
But the messy part? That's a reality. Why is it so painstakingly difficult to provide a loving home for a child who needs one? Why are there so many hoops to jump through? And while foster care adoption is much quicker than infant adoption options, why does it still take twice as long as it takes to give birth? It's a reality that Marcy's working to change.
Marcy felt it was on her heart to write a book- something that could thoroughly lay out the process of adoption through foster care. It wouldn't make the steps any simpler or fewer, but she recognized the value in knowing fully what to expect. And she hoped that laying it all out could help spark a conversation about reforming foster care adoption in Missouri and beyond.
Written in just 25 days, her book The Forgotten Adoption Option was launched last November- National Adoption Month. The book is written like a candid conversation between her and the reader. It's as a complete how-to guide for pursuing foster care adoption. Marcy has since gone on to launch The Forgotten Adoption Option Podcast, where she interviews adoptive parents, and children who have been adopted, about their unique stories of foster care adoption.
Taking the Cause to a Bigger Stage
Earlier this summer, Marcy was crowned Mrs. St. Charles with the platform of expanding her foster care adoption advocacy work.  an event she participated in to raise awareness for her platform of foster care adoption. She will go on to compete in the Mrs. Missouri America competition in September. If crowned there, she will compete at the Mrs. America competition in Las Vegas, and have the opportunity to shine a national spotlight on the need for families to answer the call of foster care adoption.
From the very beginning, Susan Sams and the Sams Carpet Cleaning and Repairs team has been a big supporter of Marcy and her efforts to grow awareness for foster care adoption. Along the way, we've worked to encourage her, help grow her audience, and make important connections to tell her story. We continue to be proud supporters of her as she seeks to reach new and bigger audiences as Mrs. St. Charles.
We are inspired by the advice Marcy gives to families who are beginning the foster care adoption process:
"You're going to meet challenges along the way. Always stay focused on what's waiting at the end: a child eager for the opportunity to be a part of your family."
If you're interested in learning more about foster care adoption, The Forgotten Adoption Option website is a great place to start. There you can purchase her book, find inspiring stories in her podcast, and learn more about how you can help give a voice to and be an advocate for adoptable children in foster care and hoping for the promise of a better future.