For us at Sams Carpet, Breast Cancer Awareness Month is a big deal. In the past, we have participated in the Susan G. Komen Race for the Cure to support Jeff's sister Tammy and other breast cancer survivors with the "Tammy O" Team.
One in eight women in the United States alone will be diagnosed with breast cancer in her lifetime. To break that down, an estimated 246,660 women in the US will be diagnosed with breast cancer each year, and more than 40,000 will die. Even more, breast cancer is the second leading cause of cancer death among women. These are some extremely scary numbers that no one wants to see. What do we want? We want a cure. We don't want to ever hear a loved one say, "I have cancer".
Thankfully, death rates from breast cancer have been declining since 1990 thanks to better screening and early detection, increased awareness and improving treatment options thanks to funds raised by people like you.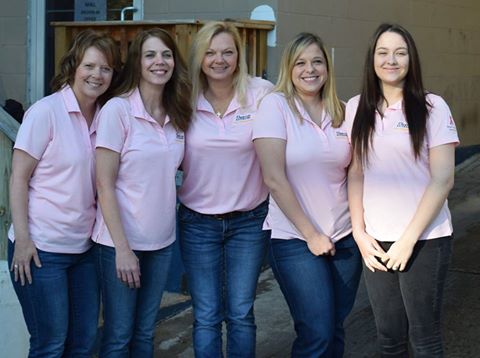 For the month of October, our wonderful team have been wearing pink Breast Cancer shirts as a reminder to be tested and to help raise money to fight for a cure. We have to say, they look pretty great, right?
To learn more about Breast Cancer Awareness, how to help or about screening, you can visit www.nationalbreastcancer.org. In honor and in memory of those who have battled Breast Cancer, we think of you this month and your incredible strength.