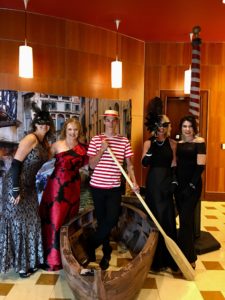 Since 1977, United Services for Children has been helping assist families with assuring that all children have access to early intervention services and pediatric therapy. United Services for Children is a nonprofit organization that provides pediatric therapy and early intervention services to children of all abilities from birth to eight years of age.  United Services for Children assists 150 children and their families each year.
Earlier this month, the 35th Annual Gala benefitting the United Services for Children was held at the Ameristar Casino in Saint Charles and Susan Sams was proud to co-chair the event. From start to finish the event was success.  This year featured a Masquerade theme and no details were left undone. Guests were greeted by a Venetian gondolier, serenaded by classical musicians as they enjoyed food and drink and bid on silent auction and raffle items. The evening was capped off by a stunning performance by vocalists from the Bach Society of St. Louis.
At the heart of Sams is their commitment to community. Susan and Jeff Sams have been supporters of the United Services for Children for many years and both were co-chairs of the annual Gala in 2018. The continued desire to give back to the community through the support of local charities is a cornerstone of Sams Carpet Cleaning.