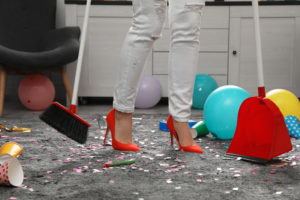 As the holiday season comes to a close, we turn our attention to new beginnings and the start of a new year. Many people use the new year as an opportunity to set resolutions in their personal and professional lives. It can also be a great time to give your home a fresh start with a professional carpet cleaning. In this blog, we will detail three reasons why the new year is the perfect time to have your carpets professionally cleaned by the Sams team.
Reason 1: The Holidays are Messy
The period of time between Thanksgiving and New Year's Eve is a whirlwind. And while it's a time for making memories with family and friends, it can also create some memories that are better left forgotten. Very few of us have a dining room large enough to seat all our holiday guests. So it's not uncommon for impromptu dining areas to spring up in other, often carpeted, areas of the home. In hindsight, putting the kids' table in the living room might not have been your best idea this Christmas. But the damage is done.
That's where Sams comes in. We have the tools and expertise to bring your carpets back to life. If it's been a while since you last had your carpet cleaned, you'll be amazed at our team's ability to transform your carpet into like-new condition again. In addition, Sams specializes in removing stubborn stains left behind from your holiday celebrations. You don't have to live with (or cover up) that wine or food stain from Christmases past any longer.
Reason 2: It's the Time of Year for Fresh Starts
We're all spending more time at home these days, so perhaps you've decided to make a new year's cleaning resolution. Like all resolutions, it will require a plan to be successful. Start by listing all of your household cleaning chores, and determining how frequently each task needs to be performed.
Of course, carpet cleaning and tile and grout cleaning should be at the top of the list. The floors of your home are the foundation upon which your family's life happens. Professional carpet cleaning ensures that the rest of your cleaning tasks build upon a fresh canvas. While deep carpet cleaning and tile and grout cleaning won't need to happen at the same frequency as vacuuming, dusting, and mopping, it's important to plan ahead to make them part of your schedule. We recommend that carpets be cleaned at least twice a year, and tile and grout be cleaned on an as-needed basis.
Reason 3: It Will Save You Money in the Long Run
How long does carpet last? The answer to that question depends on a lot of things like the quality of carpet you have, what room the carpet is in, and how heavy the foot traffic is. But another big factor that determines the lifespan of your carpet is how well you take care of it. Routine vacuuming is of course critical to the long-term care and upkeep of your carpet. But having your carpet professionally cleaned on a regular basis has been shown to add years to its life, saving you on costly replacement.
As your family enters this time of new beginnings, the Sams team wishes you a safe, healthy and prosperous new year. As you encounter life's predictable (and unpredictable) messes in the coming year, turn to the Sams team to help you through them. From upholstery and rug cleaning to water damage restoration and duct cleaning, we're your partner in keeping your home safe, healthy, and beautiful in the coming year.