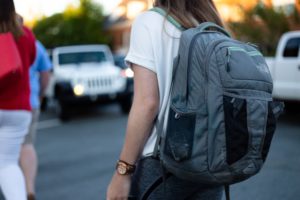 It's that time of year again! Time to pack lunches, check homework, and get to sports practice. It is back-to-school season and for many parents, we know you are feeling ready to get back to the routine. Now that the yellow school buses have come and gone and the kiddos are back to school, it is time for you to give Sams a call and get a visit from your very own yellow vehicle – the Sams Van!
Back to school is a perfect time to have your carpets cleaned and return your house to order after the summer months.  Our carpet cleaning services will leave your house feeling like new! It may even make you want to invite the whole neighborhood over to see your like-new home (because that's what fresh carpets do – they make your home feel like new!) When the Sams Van arrives, you are moments away from our white glove treatment which includes our 8-point protocol:
Your furniture is carefully moved. We're mindful of breakable objects apply corner guards.
Applying the latest removal technology, your carpets are pre-treated for stains or smells.
A powerful truck-mount steam extraction cleaning system is used to clean deep into your carpet fibers.
High traffic areas get dirty and matted. Our team brings those areas back to life with the most advanced extraction cleaning system on the market today, which allows us to thoroughly clean all sides of the carpet fiber.
A fresh-water rinse is applied so there's no sticky residue and your carpet stays cleaner longer. This is a very important step!
Your carpet will be dry in about a half day, depending on carpet thickness, humidity and air circulation. Good airflow and comfortable temperature settings will help carpets dry more quickly.
Before we leave our team will groom your carpet pile to assist in the drying process and reduce the appearance of matting and crushing.
The Sams team will perform a thorough, final inspection of the work thoroughly and make sure you are fully satisfied.
And why stop with just your carpet? Turn your whole house into a sanctuary with our tile and grout cleaning services. In most cases the fix is simple, you just need a quick visit from Sams and your tile and grout will shine like the day that it was installed.
Still not sold? Here's what our tile services entails, and what you can expect from the Sams technicians who visit your home:
An inspection is performed of the surface for any damage.
The furniture is moved with care and the work area is prepared. We ask that our customers remove all breakables.
Sweeping and vacuuming removes loose dirt, dust, or soil.
A pre-conditioner breaks down oils and stains.
Floors are scrubbed with abrasive brushes to remove stains and traffic patterns.
Pressure cleaning is done with a rotary hot water extractor leaving the area clean and fresh.
Excess water residue is removed and the drying process starts.
Once dried, furniture is placed in its original positions.
Fall is the perfect time for cleaning your carpet and tile, and you can make your home feel like new this season. We are a quick phone call away, or you can schedule your service online. We look forward to bringing your flooring back to life!