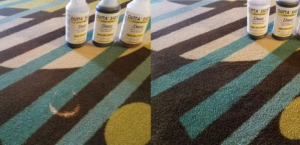 You've just installed beautiful custom carpet in your business. It's a lovely pattern, designed to be both pleasing to the eye and durable. Then the unthinkable happens. Someone spills something, causing a stain to quickly creep into that beautiful pattern. It's ruined, or so you think. Don't give up so quickly, call Sams!!
Sadly this happened to one of our clients. And the something that was spilled, was bleach. Imagine opening a new hotel only to experience a devastating spill on your custom carpet just weeks into operation. Thankfully, before they went through the drastic measure of ripping up this new, but stained, carpeting, they thought to reach out to Sams. Our team arrived, inspected the situation, and determined that this expensive custom carpeting would not need to be replaced. That's because Sams has the knowledge and experience to address a situation just like this.
Here's what we did:
First, we analyzed the colors in the pattern to get the best match possible
Then we carefully dyed each portion of the pattern with the colors we created
Finally, we allowed the area to fully dry to ensure a seamless match
When we finished the project, the carpet was restored to its original beauty and the client avoided a costly replacement. The before and after pictures tell the story!
While there's no way to remove bleach from the carpet, we were able to dye the carpet and make the stains disappear. This is just one example of the amazing work that we can do to prevent the expense and disruption of installing new carpeting in your home or business!
Whether it's a repair like the one described above, or just regular cleaning and maintenance, we know that all of our commercial clients want to make a great impression on, and comfortable experience for, employees, guests and customers. A clean carpet is often the first thing a person notices when they visit an office, hotel or store so make it tell a great story! Sams can help you do this because:
We're available for emergencies – need to remove a stain quickly, or fix a torn carpet that's a trip hazard in your space? Sams is on call to help.
We offer 24/7 water removal services – pipes can burst, storms can come in, and toilets can overflow, all causing excess water in your business. The Sams team offers a quick, expert response to this situation to get you back in business.
We provide ongoing commercial maintenance programs to take the headache out of keeping your carpets and tile flooring looking spotless. We work closely with your facility or property manager to develop a plan for ongoing cleaning, maintenance and repairs. Your space stays in tip-top condition at all times.
And we know that business owners have homes too. The great news is that Sams provides these services to our residential customers as well!
If you want to extend the life of your carpets and ensure that they look their best at all times, Sams is ready to assist you today – at work and at home!