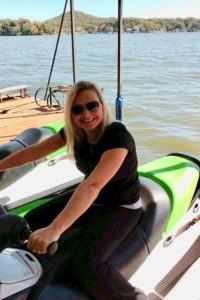 This month we're shining the light on our wonderful Kim Simpson. Kim is our Job Controller here, and she plays a big part in helping Sams run smoothly! Let's take a moment to get to know her a bit better!
Q: How long have you been at Sams, and how did you first hear about the job?
A: Two years this month actually! I found the job on Craigslist believe it or not.
Q: What exactly do you do as a Job Controller?
A: A little bit of everything, from interviewing, payroll, and receivables, but my main job is to make sure our Technicians are taken care of, getting help if they need it, and getting where they need to be. I also assign our daily schedule to our Technicians and adjust accordingly to make sure everything is finished throughout the day.  I am on the phone a LOT!
Q: Why is working at Sams different?
A: We're family here, with each other and with our customers. We treat our customers like family because that's how we would want to be treated. We pride ourselves on customer service, and always go above and beyond to make sure our customers are completely satisfied with our service.
 Q: What is it like to work here?

A: It can be crazy! But it's also fun, even if it's stressful sometimes. All in all, we joke and laugh and argue and laugh some more, just like family.  Jeff is great to work for. We all have families and understand when things come up from time to time, so we always try to accommodate everyone with their needs.
Q: Do you have any memorable experiences from over the years at Sams?

A: In the time that I have been here there have been a lot of things of course, but I remember knowing it was going to be a great place to work about the second of third week I was here. We had been having a lot, and I mean a LOT of rain, and we had thirty or so new flood calls within the work day. As the new girl, that was quite a bit of work that needed to get done! I had to call every single guy to help, and each and every one of them was so nice and helpful. They all had full days of work already, but with their help we got it all covered! They are truly some of the nicest guys to work with.
But maybe the most memorable experience is when I recently had a heart attack at work. I was in the bathroom, pants down and everything, but I was able to get them up and get that door opened! In all seriousness, I owe my life to Jessica. She called 911, and one of our techs was here and held my hand until help came. Everything went super-fast once the help came. I had a stent put in in 49 minutes, and I actually asked if I could go back to work. Needless to say, they told me no.
I had to stay a few days, but during that time I got a lot of texts from everyone at Sams making sure I was ok and that they were thinking of me. That's what I mean when I say we are all family; we are all here for each other.
Q: When you're not busy at work, what do you do for fun?

A: Well lately it's been doctor's orders to exercise and rest, but mostly I enjoy being with my loved ones and traveling. Life is short. Take the trip, buy that thing you've always wanted, and live life fully while you can.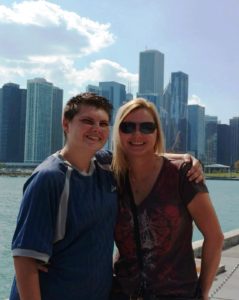 We hope you enjoyed our conversation with Kim! As you can see, she's a wonderful addition to our team, and we're very thankful she was able to take the time out of her busy schedule so we could get to know her better.