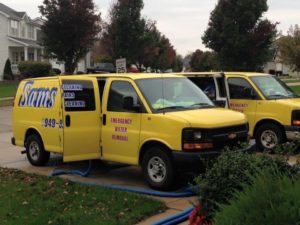 This is the perfect time of year to refresh your home from top to bottom. But where do you start if you are looking for a residential carpet cleaning company in the Saint Louis Metro Area or St. Charles County? Trust and professionalism are important when you are deciding who to work with and let into your home. It is also important to create a clean and germ-free environment for the health and safety of your family and guests.
Flooring is a significant investment for you as a homeowner. Preserving and refreshing it will make your home feel like new. However, longevity is not just an aesthetic priority, but a financial one too. As you research and choose a carpet cleaning company for your household, here are a few things to keep in mind.
Carpet Cleaning Experience Matters
Look for a company with a long-standing history and residential experience when choosing a carpet cleaner. It's important to select a carpet cleaning company that has a system in place that prioritizes treating your home with the utmost care. Experience also means the company has dealt with a wide variety of spaces and carpet types to ensure that the right techniques are used to effectively clean your carpets without causing damage. Make sure the team you hire is well trained and highly skilled. A professional residential carpet cleaning company will carefully move furniture, apply guards to your corners, inspect for stains and smells that require pre-treatment, and give special attention to high traffic areas that need to be revitalized in the carpet cleaning process.
When Sams' yellow van shows up to your home to do a job, we utilize our eight-step process, from pre-treating to a final inspection. This assures your carpets are cared for from start to finish, your home is treated with the utmost care, and everything is left in better condition than when we arrived.
The Latest Technology and Equipment
Like any industry, technology and technique are constantly evolving in the carpet cleaning business. So look for a company using the latest technology and practices in the industry for your residential carpet cleaning needs.
The Sams yellow vans are equipped with the latest technology.  We use a powerful, state-of-the-art, truck-mounted steam extraction system to clean deep into the fibers of your carpet. The team also applies a fresh water rinse after cleaning to ensure there is no residue left behind and your carpet stays cleaner longer. Our team is constantly learning about the latest techniques in the industry and applying them to the work we do to keep the homes of St. Louis and St. Charles County residents looking their best.
Additional Services Under One Roof
Allowing people into your home to do work always requires a level of trust, but even more so these days. Having one partner you can turn to for multiple cleaning and maintenance services is incredibly valuable. When researching companies to perform your carpet cleaning, find out if there are additional services they offer to residential clients.
Sams has built a name as one of the most trusted residential carpet cleaning companies in the St. Louis area. But that's only the beginning of the services we provide to keep your home clean and healthy. In addition to carpet cleaning and protection, we offer carpet stretching and repairs, upholstered furniture cleaning, air duct cleaning, tile and grout cleaning, 24-hour water damage services, spot and stain removal, pet damage removal, odor control, and area rug cleaning. We can even work with you to set up recurring services as well.
The St. Louis Area's Preferred Residential Carpet Cleaners
If you're looking for a company you can trust in the St. Louis area, there's only one name you need to remember. Sams Carpet Cleaning and Repairs has the experience, the team, and the technology to deliver a consistently high-quality carpet cleaning experience. Reach out today to put our team to work making your home shine.