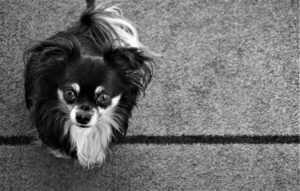 Americans love their pets. Pet ownership is reported to be at an all-time high, thanks to pandemic lockdowns and social distancing measures. According to the 2019-2020 National Pet Owners Survey conducted by the American Pet Products Association (APPA), sixty-seven percent of U.S. households report owning a pet. Chances are, if you have a furry, or four-legged, or exotic family member in your household you've also dealt with carpet damage caused by that cute companion. Whether it's Fido, your sneaky kitty, or a well-trained rabbit, carpet damage is common when you add a beloved pet to your home.
How Carpet Damage Happens
Carpet damage by pets is almost always accidental. Sometimes your beloved pet simply can't survive without a potty break for the amount of time you're away. Sometimes curiosity gets the best of them and accidents happen. Regardless of the cause, universal laws seems to dictate that no matter the balance of hard flooring to carpet in your home, your pet is going to find your carpet or area rugs when accidents and messes happen. Carpet damage caused by pets is often frustrating especially when you find the problem sometimes hours after it has occurred. Regardless of the source or cause of your pet's accident, time is of the essence when addressing the damage to your carpet.
Removing Pet Stains from Carpet
If your pet urinates on your carpet, area rugs, or upholstery, it's important to assess whether the urine is only on the surface of your carpet or if it has sunk below the carpet into the pad and subfloor. Be very cautious when using carpet cleaners and spray-on stain and odor removers available at supermarket and hardware stores. These remedies may help but also can make the stains and odors permanent. Before you proceed with any carpet cleaning product, test a small area first to ensure it will not stain or damage your carpet.
Some pets take time to unlearn a bad habit and tend to return to the same spot to urinate or mark their territory repeatedly. If this occurs, it can be difficult to remove the source of the odor your pet senses without professional cleaning.
As long as your furry friend can smell the odor of their urine, they will consider the soiled area an approved area to relieve themselves. You'll continue to clean to no avail, because most products available to consumers cannot resolve deep odors caused by repeat urine soaking. In fact, repeat cleaning without removing the odor can make the problem worse. Our team uses special tools to assess where actual staining and damage has occurred. It is possible the underside of the carpet, the pad, and the subfloor require cleaning and resealing to not only repair the damage but finally stop it from reoccurring.
Does your pet have a favorite "spot" to sit or lay in your home? If it's on carpet or furniture, you've likely noticed stains caused by oil from their fur and skin. The Sams team uses specially formulated cleaning solutions to remove these stains and has accumulated an impressive track record of success.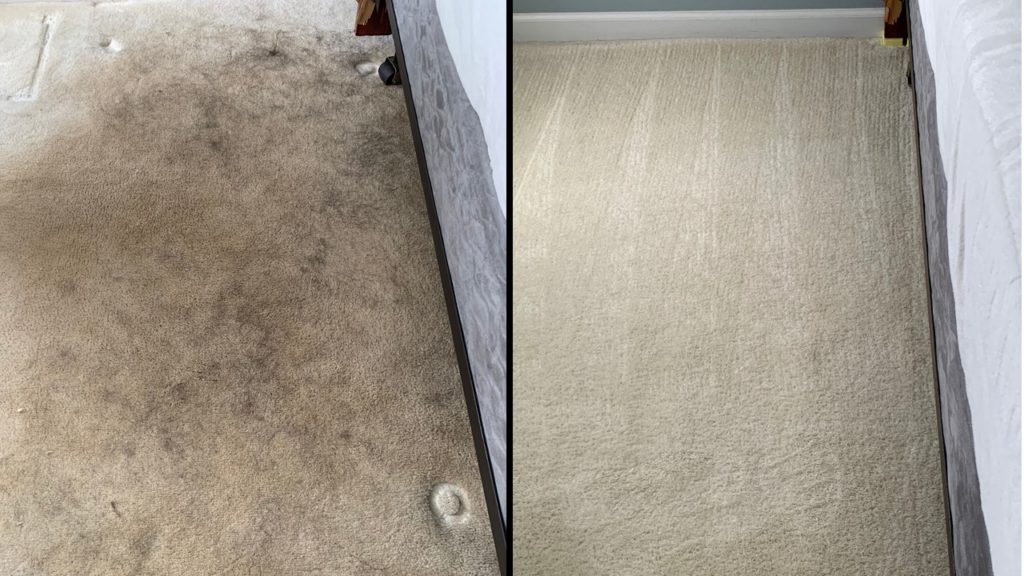 Repairing Carpet and Upholstery Damage by Pets
Most pet owners accept the frustration of carpet, area rugs, and upholstery damage caused by their beloved pets. It's sometimes simply the price of experiencing the love and companionship offered by animals. However, pet ownership doesn't have to signal the end of clean carpets, area rugs, and upholstery in your home. Owning a pet doesn't mean keeping replacement funds in preparation for the impending damage to your home. Carpet, area rugs, and upholstery damage by pets can be assessed and most likely repaired by the trusted team at Sams Carpet Cleaning and Repairs.
Not all pet damage to carpet is caused by stains and spills. Sometimes, your pet causes damage to your carpet such as holes, tearing and bunching, and discoloration over time. Your favorite part of coming home to your pet's dancing and zooming can cause carpet damage that may appear permanent. The Sams team can assess and recommend repairs that will have your carpet looking great, no matter how many celebratory laps it has supported. Sams can patch, re-seam, stretch, repair and replace trim, repair and replace thresholds, and even dye your carpet to match its original color.

Professional Cleaning Brings Pet Damaged Carpet Back to Life
There are many effective solutions for cleaning your carpet, area rugs, and upholstery available on the market. Do it yourself cleaning solutions can be used cautiously when accidents are caught quickly and have not soaked all the way through the carpet pad or subfloor. In addition to removing stains and damage, the odors left behind by pet damage to carpet must be addressed as well.
Pet owners trust the professionals at Sams Carpet Cleaning and Repairs to evaluate and remove the stain and odor in most cases. Protect your investment and preserve the quality of your home for everyone who lives there, including your four-legged family members. Sams is your solution to repair carpet damage caused by pets.