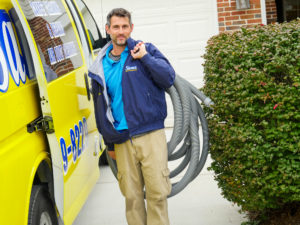 For over 30 thirty years the Sams team has been proud to serve the St. Louis area. We have been able to grow due to our amazing employees and their high level of commitment to their jobs and the community.  At the heart of everything we do is our desire to build strong relationships between our employees and our customers. We want our employees to feel empowered and excited to do their job each day. We understand that a job environment where you feel supported, are allowed a level of independence, are part of a community, and feel proud of what you do will lead to future success. How do we build this? We have created a family environment, and we hear this is true from our employees on a regular basis.
Our employees love to come to work because each day presents something new and unique. Each job allows our employees to make a difference in the lives of our customers and gives us all pride.
What Sams Employees Have to Say
Don't just take our word for it! Sams team members will happily tell you what they love about their jobs, and what it's like to work here!
For the last 4 years, John T. has worked for Sams as an area rug specialist. What does he love about working at Sams?
"One thing that really stands out is how close everyone is at Sams. It's like a family, … and the first job I've ever had that I like going to every day. I feel blessed, and on top of that it pays my bills".
And John is not alone in this, Jake T., who has worked at Sams for over ten years is another fabulous employee. Jake is a technician and loves the feeling of helping customers revitalize their living space. As Jake puts it:
"I've always enjoyed art and creating things, so I like how at Sams we make something nice out of something which may not have been so nice. There's a lot of the satisfaction in leaving a place looking great".
From technicians to the main office, our employees say the same thing: Sams is a family. Kim, our job controller put it best:
"We're family here, with each other and with our customers. We treat our customers like family because that's how we would want to be treated. We pride ourselves on customer service, and always go above and beyond to make sure our customers are completely satisfied with our service".
Want to be a part of the Sams family? Check out current positions available, or call us at 636-949-8229.