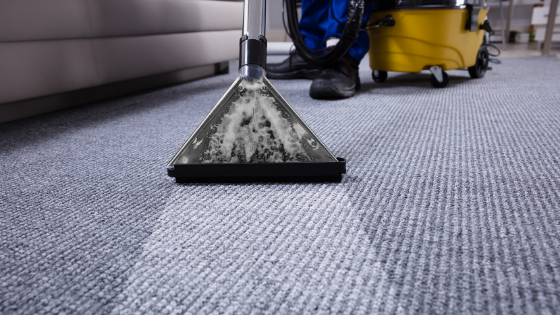 Midwest winters can feel endless and unforgiving for all, including your floor coverings. As a business owner, first impressions matter and a dingy, worn out carpet and tile, makes for an unpleasant customer and workplace experience. Attending to your carpet and tile floors with a regularly scheduled professional cleaning from Sams will not only serve to make your place of business shine, but it will also extend the life of your floor coverings.
Winter Carpet and Tile Woes
Snow and ice are not nice! When people track in snow and ice, they not only bring in moisture that can cause subsurface issues, but they bring in small debris like pebbles, salt and sand from road and sidewalk treatments. Debris that get caught in carpet fibers act like sandpaper and slowly grind down the fibers when you walk, making your carpeting not only dirty, but noticeably worn. If you do not take the time to clean your carpets on a regular basis, this could end in a costly full office flooring replacement.
How to Minimize Carpet and Tile Damage Caused by Winter Grime
Vacuum your carpets and sweep tile floors regularly. In high traffic areas like entrances or hallways, it is important to clean daily. This will remove the salt, dirt and any small debris that wear down the carpeting and cause damage to tile over time.
In entrances and lobbies, it's important to put down a durable floor mat that will allow clients to wipe their feet and take the initial blow of the shoe traffic. It's not a bad idea to place one outside of the main entrance as well as directly inside of the doors. The mats will help to catch the winter ice and snow that can get tracked into your business, and other objects such as snow melt which can cause the worst of the damage to your flooring.  Make sure to vacuum/shake them often to remove a majority of the debris.
Schedule regular professional carpet and tile cleaning. This is your best weapon in fighting the battle. Again, the goal is not just to make your flooring appear clean on the surface, but to remove the sand, dirt, moisture and salt melt pellets that are ground into carpet fibers and into tile and grout when people walk on the floors. A professional cleaning from Sams uses state-of-the-art technology, and decades of expertise in fighting even the toughest dirt. We will help you keep the carpet and tile in your business clean and extend its overall life.
We look forward to speaking with you about how a regular, professional carpet or tile cleaning can benefit your business. Schedule your appointment online today, or call us at 636-949-8229.