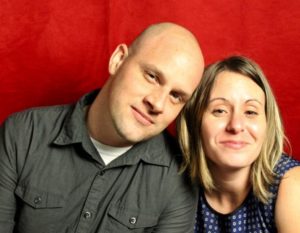 This month we're featuring one of our fantastic technicians: Jake Custer! Jake has been with us for years and is a much-appreciate part of the Sams family. Let's take some time to learn more about him!
Q: How long have you been at Sams?
A: I've actually been here nearly 10 years coming up very soon.
Q: How did you first hear about the job?
A: One of my friends was working at Sams and referred me to the job.
Q: What exactly do you do as a Technician?
A: Oh, a lot of things depending on the day. Of course there's a lot of cleaning, but also repairs, resurfacing floors, and cleaning out air ducts. It really varies day to day. And I like that!
Q: Why is working at Sams different?
A: I've always enjoyed art and creating things, so I like how at Sams we make something nice out of something which may not have been so nice. There's a lot of the satisfaction in leaving a place looking great.
Q: Do you have any memorable experiences from over the years at Sams?

A: Oh, there are lots of stories, but there's one kind of funny one that sticks out to me. Once, I was working with another employee, kind of a fun, goofy guy, and we were working at the house of an older man, very no-nonsense, probably military. My coworker was downstairs, and I had gone outside, but he didn't realize I had gone outside, so when he heard someone coming down the stairs, he jumped out to surprise me. Of course it wasn't me, it was the owner, who just looked at him said "Practice your karate somewhere else." At Sams we are a hardworking team, but we also are like a family, and a laugh or smile always brightens the day.
Q: When you're not busy at work, what do you do for fun?

A: Most of my time is with my kids. I coach my kids' soccer, which is great. Spending time with my family is where pretty much all my spare time goes!
We're so glad Jake took some time to have this conversation with us, and we hope you enjoyed it too!