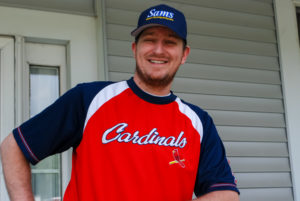 This week we took some time with our area rug specialist, Tucker to get all of the intimate details on what it's like to work for Sams Carpet. We were so happy to hear that one of the best parts of his job is the people that he gets to work with on a daily basis here at Sams. Below, find out more on Tucker's job, his life and what his most memorable experiences are here.
Q: How long have you been at Sams?
A: I started at Sams in October of 2015, so for 3 years.
Q: What exactly do you do as area rug specialist?
A: I do everything involved in the process except scheduling. We take the rugs out of the homes or businesses, and I also facilitate the pick-up and delivery once the rug is clean.
We have a rug plant (FrenchTown Rug Cleaning, a division of Sams) in which we run the rugs through a detailed cleaning process at the plant. After I carefully inspected the rug before giving back to customer, an office staff member calls the customer to make arrangements to picks the rugs up, or schedule for me to deliver the rug back to their home or business.
Q: Why is working at Sams different?
A: One thing that really stands out is how close everyone is at Sams. It's like a family, and everyone sticks up for each other. If someone's is having a bad day or a hard time, everyone tries to pick them up and make them feel better. It's a nice clean friendly place to work, and the first job I've ever had that I like going to every day. I feel blessed, and on top of that it pays my bills.
Q: What is it like to work here?
A: It's fun. Some days are rougher than others, but overall it's really laid back, and so are the people I work with. You don't ever hear people yelling or fighting and that's one of the best parts of it.
Q: Do you have any memorable experiences from over the years at Sams?
A: The cool thing about this job is that you get to meet all different people, with different personalities, stories, etc. A month ago we were working on a woman's home, and I was picking up the area rugs while another Sams tech was cleaning her sofa. It was an older couple's home, and the lady snuck up behind the other tech scared him half to death. Those kinds of fun interactions with our clients make the job so much more personal.
Q: When you're not busy at work, what do you do for fun?
A: I am a big fan of the St. Louis Cardinals and Blues and love going to the games. When I can't make it to the games, I catch them on TV all the time. I am also a father and I enjoy spending time outside with my son and go to the local parks.
A huge thank you goes out to Tucker for participating and sharing his Sams experience. Book him or one of our other amazing technician specialists to clean your home or business by calling 636-949-8229 to schedule an appointment.