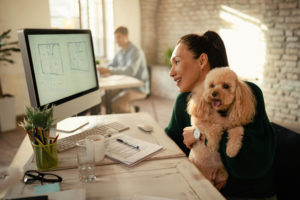 It has never been more common to have a pet friendly work environment. Many companies are jumping on to the trend and for a good reason. There is a great deal of evidence on how a pet friendly workplace can benefit employees and, in turn, their employers.
Pets in the workplace boost morale. They have been shown to reduce stress, bring coworkers together and help foster teamwork. The addition of cats and dogs extends beyond morale to the productivity and even the pockets of employees. Studies show that when employees are allowed to bring their dogs to work, they no longer have to pay for doggie daycare or walking services and don't have to worry that Fido is trapped inside all day. In addition, customers enjoy the opportunity to interact with the pets in your workplace when they come to visit! It can enhance their experience and build positive sentiment about your company.
The benefits are clear, but it is important to keep in mind that a clean and inviting office is key to a thriving business. If you have made the choice to allow pets in the office, then making sure that your carpets and furniture are clean is essential.
Clean up any pet accidents immediately
There is no time like the present when it comes to stain and odor removal and even long-term damage. Blot up any moisture immediately to prevent damage to the carpet padding and sub flooring that lies beneath. In many cases, moisture will penetrate those layers, so you'll want to call in our Sams team professionals to extract the debris and perform repairs as necessary.
 Make rules!
It's important to have rules for all to follow and understand.  It's not safe or practical to have pets that cannot adhere to basic rules or tend to cause continuous damage. If a pet is a repeat offender, it's probably in the best interest for the pet to stay at home.
Schedule regular cleanings
This is the most important method for assuring that the office environment is well kept. Be sure to point out where accidents have occurred, and pet urine may be lingering below the surface so that it can be treated appropriately. Regular cleanings will not only take care of any tough to handle stains but will also remove hair and dander that will not budge with a vacuum. It will also remove unwanted odors and create a welcoming atmosphere for employees and customers.
At Sams we love our furry friends and we are proud to clean many pet friendly offices with our safe and effective methods. We would love to help you to make your offices a place filled with tail wags and smiles. Give us a call at 636-949-8229, or schedule your cleaning online today!