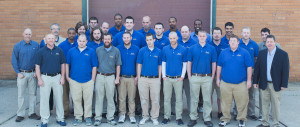 You've probably seen our bright yellow vans around or possibly heard a friend talk about Sams Carpet Cleaning & Repairs, but who are we really? We are more than carpet cleaners and neon vehicles, we are ultimately a family business. With us, it's more than just carpet, it's about people. Not only do we care about our customers and make it our mission to treat them the way we want to be treated, but we also have an immense amount of appreciation for our amazing employees. We are proud to have a strong and talented team, many of whom have been with Sams for years.
Sams Carpet Cleaning & Repairs has been in business since 1985, started by Jeff Sams. Over the years, we have grown throughout the St. Louis Metropolitan area and into Illinois thanks to the referrals and support of wonderful customers like you.
Trust is big with us. After all, you're inviting us into your home, business or commercial space and we do not take that lightly. We know that you could have chosen another company, but you decided we were the company you wanted to business with, and for that, we are grateful. And we make it our mission to treat your home, business, commercial real estate and apartment like our own, and provide the best service possible.
What makes us different? Obviously, we love cleaning and repairing carpets, but it doesn't end there. We also take care of your fine rugs, tile and grout, air ducts, emergency water restoration and more, and, we love it all! More so, we truly enjoy and find our customers interesting. With Sams, you'll find a personable, no-pressure approach. Trust us, we know from personal experience that no one enjoys a high-pressure sales experience. You'll feel, and see, the pride we take in our work and the joy we find in serving you.
Click HERE to meet our team and get to know us on a deeper level. Our community is important to us, and we want to give back to those who have made such a big impact on our lives. You can check out our community news HERE.
Be sure to check out our social media presence….LIKE our page on Facebook, Instagram, Twitter, LinkedIn, and Youtube.  Send us a message or leave us a comment, we want to continue our Friendship!