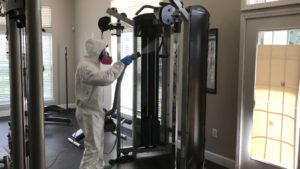 For over 30 years Sams has offered Emergency Restoration Services around the clock to help our customers clean and disinfect their homes and businesses after an unexpected disaster. While these disasters typically involve events like a flooded basement, sewage overflow, or burst pipes, sometimes the situation calls for disinfecting a home or building after a serious illness. Today, we're facing an illness more serious than the majority of Americans have ever faced – COVID-19.
As of Monday, April 6, Missouri Governor Mike Parson issued stay-at-home orders which limit all but essential workers and encourages social distancing. In addition, the Federal Government's guidelines regarding social distancing have been extended through April/May. This has left the majority of our state's schools, churches, office buildings, libraries, fitness centers and other large gathering spots empty (or nearly empty) as we weather this storm.
We're all hopeful that this shall pass as quickly as possible. In the meantime, it's important to have your buildings cleaned and disinfected to be ready when that time comes. The Sams team has the experience and the equipment as we have already started performing our deep cleaning and disinfecting services in the community.
The Process
The Sams disinfecting cleaning team is the last step in the process. We will work with you individually in preparing for us to arrive. We understand for us to meet the needs and requirements that are specific to each industry. To follow some overview guidelines we received from CDC, EPA, and the cleaning industry associations, we have a few steps to encourage:
All hard surfaces to be wiped down with disinfectant. This includes everything from tables, shelving, blinds, furniture, light fixtures, and more.
All carpeted areas to be vacuumed.
All other flooring to be swept and mopped with disinfecting cleaning solution.
Upholstered furniture, draperies and other fabrics have been vacuumed.
To assist with the above steps, the Sams team is equipped to deep clean and disinfect carpets, upholstery, air ducts, and tile.
We will then come in with our high-powered ULV disinfecting fogging application with an EPA Certified Board Spectrum Disinfectant and virucide to remove all contaminants from the air and surfaces. After disinfectant services have been performed, the space must remain unoccupied for a minimum of four hours.
Trust Sams, an Experienced and Certified Cleaning and Restoration Firm
Not only do we have more than 30 years of experience in restoration, Sams is also an Institute of Inspection Cleaning and Restoration (IICRC) Certified Firm. We hold training and certifications in IICRC following the industry standards, which include but not limited to water restoration/disinfecting, sewage restoration/disinfecting, carpet cleaning, upholstery cleaning, carpet repairs, etc.
As such, we are working during this time as an essential business. As of March 20th, 2020 the IICRC along with the RIA (Restoration Industry Association) and NADCA (The HVAC Inspection Cleaning and Restoration Association) have written a letter to the Federal, State and Local Governments to certify all restoration and disaster recovery operations essential.
Doing the Job, and Following Safety Measures
Sams is working diligently to assure that all CDC guidelines are being followed, and we are constantly working to update our procedures to keep both our customers and clients safe.
Currently we are using the following process to perform an estimate or cleaning:
When we arrive at the job site, we meet the customer outside with safe social distancing. Sadly, this means no handshake for now.
The Sams team member wears a mask, gloves and booties to make sure he or she is protected.
We enter the unoccupied building to do our evaluation.
Once inside, we do not touch any items, we simply need to observe and take notes.
When the evaluation is completed, we electronically send the customer the evaluation/estimate.
If the customer is unable to leave the building, he or she can move into a room that we are not evaluating and keep the door closed to avoid contact.
At Sams, we love our community and are committed to both helping to reduce the spread of COVID-19 as well as our goal to provide a peace of mind to return homes, businesses, schools and gathering spots back to a clean and sanitary environment. We're in this together, and look forward to a time of shaking hands and working face-to-face soon.
To schedule your disinfecting services, please call us at 636-949-8229, or schedule online today!