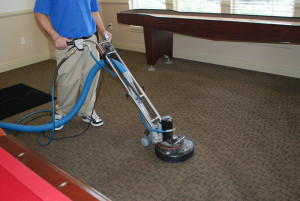 For some, the idea of rolling up their sleeves and tackling a weekend project around the house may seem appealing. But while things like planting some flowers or trying out a new paint technique from Pinterest might not cause too many woes if not done properly, doing a DIY job on your carpet isn't one of them. Fact is, there are many reasons you shouldn't clean your carpet on your own.
Over-Shampooing
That's right, folks. You can do too much of a good thing, and in this case, we're talking about the shampoo (the "soap") applied to your carpet. We've found that many DIYers make this rookie mistake. Not only do they apply too much shampoo during the cleaning process, but they also don't properly rinse out what they do apply. The chemicals left behind can damage your carpet, and will leave residue behind which will make your carpet into a dirt magnet. At Sams, we use the appropriate product for your carpet, in the right amount, and properly rinse the area. It's just the right way to care for carpet!
Over-Wetting
Since we're on the topic of rinsing, soaking your carpet in water isn't the solution to getting a clean surface. If too much water is applied, you run the risk of not only inviting mold and mildew problems into your home (that excess moisture will lie beneath the surface for a long time before it dries out!), but you also may see your carpet shrink and begin to tear from the edges or seams. Sams uses a proper rinsing technique that will remove residue from the carpet cleaning process, and dry promptly – typically after about a half day. To assist with dry time, depending on the outside conditions, air conditioning or heat, continuous air flow will help with shortening the duration of the drying process. It never hurts if you have ceiling fans running at the time of cleaning and after to speed up the process.
Overuse of Deodorizers
In addition to getting your carpet clean, you want it to smell its best for guests. We get it, you don't want your floor to smell like Fluffy and Fido rolled around on it after a playdate. However, deodorizing your carpet may mask smells, but it's not a solution or substitute for cleaning. The powder will get stuck in your carpet fibers resulting in a messy, dull looking carpet. Using too much of this powder will result in buildups, especially if you can't remove them with your vacuum.
Warranties
Many carpet manufacturers warranties require that the carpet is professional cleaned to keep it validated. Be sure to check your specific manufacturer warranties before you go and do it yourself, and when in doubt, contact a professional. It could save you a LOT of money in the long haul!
Next time you think to rent a machine or roll out all of your over-the-counter carpet cleaning products, consider giving us a call. At Sams, we're passionate about providing our customers with the best experience and making your home a real place of comfort. As part of our commitment to excellence, we utilize the latest cleaning technology on your carpet for stains or smells and even bring those high traffic areas back to life with an advanced extraction cleaning system. When we're done, we will conduct a thorough final inspection to make sure you're satisfied. Let Sams take the work – and the worry – of cleaning your carpets away!