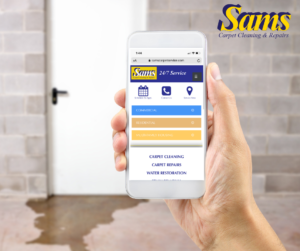 Water is the fundamental building block of life on earth. It's our planet's most abundant resource and we literally can't live without it. But if you've ever discovered water damage in your office, you've likely spent time cursing its mere existence.
Bursting pipes, summer storms, and faulty appliances all can lead to water damage. Regardless of the cause, the end result is a problem you want to address quickly. Commercial water issues can be especially problematic because most office and commercial buildings are not occupied 24 hours a day. So the lag time between when the event occurs and when the damage is discovered can sometimes be significant and lead to larger problems. In this blog post, we're going to explain the actions to take when you discover water in your office or commercial building.
Step 1: Identify the Source of Your Office Water Damage
This is a 'safety first' situation. Before you even think about cleaning up the mess, ensure that electricity is turned off and you're using proper gear like gloves and water boots to investigate the cause of the water issue.  If your water damage was caused by a storm, it will likely be pretty clear to you. But if it was caused by a burst pipe or a leaking appliance, it may be less obvious.
Step 2: Stop the Inflow of Water
Once you've identified the issue, you need to take steps to prevent more water from damaging your office and creating a bigger problem. If it was storm damage, this could be difficult and dangerous to do before the storm passes. You may be better off waiting.
If it's a pipe that's burst, your first step toward mitigating the issue is turning off the water main. Then call a plumber immediately. The plumber will come into your office building, identify the burst pipe, and fix it.
If you've identified a faulty appliance, determine whether or not it has a water supply. If it does, stop the flow of water to the appliance and remove the water supply. If it doesn't, you're likely dealing with a refrigerator or freezer. Before moving the appliance out of the area, soak up as much standing water as you can from inside of it. If you attempt to move it without removing any water contained inside, you could end up with a bigger issue on your hands. Once you've stopped additional water from leaking, it's time to decide if you want to repair or replace the appliance.
Step 3: Remove Any Valuable or Susceptible Materials from the Area
While stopping the water from damaging your office building, you also want to manage the rescue of any material from the debris that has sustained water damage or is in danger of sustaining damage. Before you do, check out our Quick Action Safe Water Clean-Up Tips at the bottom of this page.
Focus on items susceptible to water damage. This can include computers and other tech components, important files and paperwork, wooden furniture, or anything else that doesn't play well with water. Get it out of the space and into an area where it can begin the drying process. Remember that after a water issue, there will also be increased moisture in the air. That moisture can be just as damaging to your space and materials as standing water.
Step 4: Call Sams for Office Water Damage Restoration
If water damage isn't dealt with quickly, the potential for far more serious damage is high. As you work on the rest of these measures, you want to contact the professionals at Sams. We offer water damage restoration services 24 hours a day, every day of the year.  We work with all insurance companies using required industry standard software to mitigate your water damage. We have exceptional relationships with St. Louis area insurance companies and can guide you through your claims process. And if your company's insurance policy doesn't cover water damage restoration, we will quickly provide you with a competitive proposal.
Time is of the essence when dealing with office water damage, so our team's first move is a thorough inspection and assessment. We'll provide an honest and complete picture of the extent of the damage and the work needed to repair it. We then remove and dispose of debris and move furniture as needed to mitigate additional damage.
We use specialized tools to detect moisture in building materials, extract water from the damaged area, and apply anti-microbial disinfectant to prevent mold and mildew. Throughout the process we use our structural and drying equipment to minimize the potential for mold growth, keeping you informed the whole time. Once the area is completely dry, we can provide carpet repairs as needed and advise on required construction repairs.
There's nothing pleasant about discovering office water damage. But it's good to know there's help available when you do. Contact Sams at 636-949-8229 24/7 to reach a team member available 24/7 to answer the call to provide reliable and safe water damage restoration services for your office or commercial building.  We cannot stress enough that our team members are there for you every step of the way during this crisis, even if it is in the middle of the night or early in the morning.