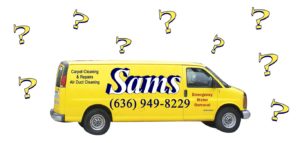 All the great thriller games start with discovery and mystery… Where's Waldo, Where in the World is Carmen Sandiego, Clue, Nancy Drew, and of course, Scooby Doo. All of these games have something in common, other than mystery, and that is a recognizable and lovable characters. You of course have Waldo, Carmen Sandiego, Miss Scarlet, Mrs. Peacock, Professor Plum, Nancy Drew, Scooby Doo, Shaggy and that's just to name a few. Well at Sams, we have our own lovable character, the brilliant, vibrant yellow Sams Van!
We've started a game at Sams Carpet Cleaning, and at first it started out with employees and friends. We called it, "Where's the Sams Van?". We would have people text us pictures at a stoplight of our recognizable yellow van and say, "I found you!", or in a parking lot, or even at someone's house. We get a kick out of seeing these messages and love that our loveable yellow character is being spotted around St. Louis.
We've decided to take our game a step further, and open it up to you! So here are the rules:
• Spot a Sams Van
• Take a photo (bonus points if you get a selfie with the Sams Van and *bonus bonus* points for getting a picture with the Sams Technician)
• Share the photo on our social media
The photo with the most likes at the end of the month will win a $20 Sams Carpet Cleaning gift certificate and a $50 Lowes Gift Card!
Now, it goes without saying, but we still will, we of course want you to be safe! Please do not take a picture while driving, the last thing we want is for the Sams van to cause an accident. The winner must be residential and within our service area. You can check out services in your area HERE.
It's that simple, all you have to do is keep your eyes peeled for the Sams van and you could be the lucky winner. Be sure to share the game with friends and families and the next time you spot a Sams van, best of luck! Snap the photo and share on our Facebook for your chance to win.