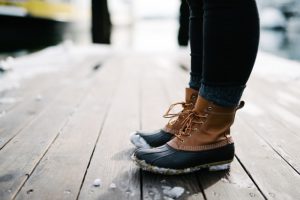 This time of year, our feet can be a real problem for the look and longevity of the floors in your business. With regular foot traffic of customers and employees, it's easy to not notice we're tracking in snow, dirt, sand, and salt from outside until it's too late. And all that extra moisture from the snow ends up on your floors.  You need to be extra cautious to take proper care of your floors and keep up with the cleaning so that winter grime doesn't affect the life of your carpet.
To help with the winter blues, we've put together these three tips for business owners and commercial facility managers to prevent water and contaminant damage to floors this winter:
Tip 1: Use Entry Mats to Prevent Floor Water Damage
Commercial entry mats are an excellent way to trap and absorb moisture and dirt. They put a layer of protection between wet and dirty footwear, and your flooring. It's important to continuously change and clean the mats as well, to ensure they're always ready to absorb the next wave of traffic. You could also consider hanging a "Please wipe your shoes" sign as a friendly reminder to guests and staff.
Tip 2: Vacuum More Frequently
With icy sidewalks and parking lots there is a lot of sand and salt put down. Of course, salt and sand prevents slips and falls, but it also ends up tracking into your building which can damage the fibers of the carpet, causing frayed ends and other damage over time. The best solution is to increase frequency of vacuuming to remove the small particles that threaten your floors.
Tip 3: Regular Cleaning for Carpets and Hard Floors
In addition to the slush, sands, and salt that make their way into the building, the moisture of the snow will leave a chalky, white residue behind the floors once the water evaporates.  If left untreated, these white stains can be permanent. Flooring is a significant investment, so take care of it with regular carpet cleaning from Sams Carpet Cleaning & Repairs. Our trained professionals can thoroughly and safely remove that winter mixture residue.
As always, Sams Carpet Cleaning & Repairs can help you with a routine Winter Maintenance to keep your environment safe and fresh, and extend the lifespan of your flooring.