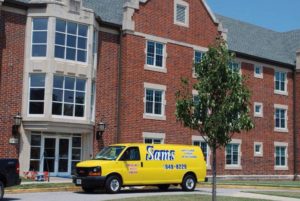 Every business should have partners they can count on. When it comes to carpet cleaning, tile and grout cleaning, upholstery furniture cleaning, and even emergency water damage restoration, the partner you choose makes a visible impact on your property. The space is left fresh, clean, and looking great for everyone who walks through your doors. At Sams, we've been serving our commercial partners in the St. Louis area since 1985, providing the cleaning they need to create an exceptional experience for their customers.
But how can you know who to turn to? When choosing a commercial carpet cleaning company, consider the following.
Partner Experience
Your furniture and flooring cleaning partner should demonstrate the experience you need for your facility. Performing a large-scale cleaning is much different from carpet cleaning in your home. Your partner must be able to provide the right sized crew, the knowledge and flexibility to tackle whatever unexpected things they may encounter, and the right type of equipment (and number of machines required) for your facility.
The Sams Carpet Cleaning & Repairs Team has years of experience with many types of commercial facilities, including:
Enterprise Center
Peabody Opera House
Lindenwood University
Office buildings, such as the Prairie Farms complex
United Services for Children Educational Facility
Archdiocese of St. Louis
Countless apartment buildings, including individual units, common areas, on-site gym and recreation rooms, and management offices
Individual offices of all shapes and sizes
And so much more!
These commercial partners have trusted us with their space, and you can too!
Extended Cleaning Capabilities
The Sams team cleans more than carpet. Our commercial services extend into many different areas of cleaning that you likely need in your commercial facility:
This means that we have the capabilities to take care of many of your cleaning needs in one visit or we can develop a comprehensive cleaning plan with you.
Ease of Scheduling
Our commercial customers often remark that we make it easy for them to schedule their cleaning services. We offer convenient online scheduling, as well as maintenance packages to pre-schedule and plan for regular cleaning throughout the year.
Emergency Services
When disaster strikes, you can count on the Sams team. In the case of an emergency, we offer a 24/7 hotline so that we can take care of your needs right away. Sams offers emergency water damage restoration services for commercial facilities of all types and sizes, regardless of the cause of the water damage. We've cared for commercial customers who have experienced burst pipes, flooding caused by severe storms, sewer backups, and more. We'll bring in the equipment needed to remove the water and debris, provide structural drying equipment, apply an anti-microbial to prevent mold and mildew, and clean and repair your carpets to pre-loss condition.
A Large, Experienced Crew
Sams technicians have many years of experience in carpet cleaning, carpet repairs, and all of the other services we've listed above. We also know that not all carpet, tile, upholstery, or other surfaces – or the stains that may live on them – are the same, so we'll apply our knowledge to treat each with the most appropriate cleaning products and techniques. You know when the Sams vans arrive, we'll care for your needs in the best way possible!
We invite you to experience the Sams Carpet Cleaning & Repairs Team in action in your facility. Call us today at 636-949-8229 to learn more about our commercial cleaning services, or contact us online!