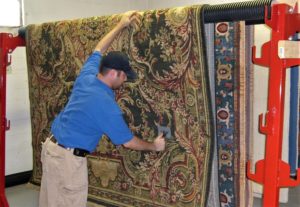 Many businesses are decorating offices with beautiful area rugs to give that extra color and to set the tone of the company.  The first impression you make is important when clients are visiting your facility. A rug can soften hard surfaces, or add a splash of color in an otherwise neutral area. The right rug can bring a feeling of warmth or sophistication, and bring the rest of your décor together.
But have you looked down recently to see if your rugs are dirty or need a refresh? Your rugs need to be kept up to stay looking their best, and if they're not, what tone are they setting? Rugs are accent pieces, so they'll draw attention, whether it's good or bad.
Rugs take the brunt of wear and grime in heavily trafficked areas which are also the areas that people are most likely to see them. Some rugs hide their wear better than others, but it doesn't change the fact that the less you care for them, the shorter lifespan they'll have. Your area rugs are a significant investment, so it's important to maintain them so they will last longer!
FrenchTown Rug Cleaning Co., a division of Sams Carpet Cleaning & Repairs, has been cleaning exquisite area rugs for over 20 years. We have a detailed process that will bring your area rugs to its previous condition before it got all dirty through the winter months. Worried about being too busy to schedule a time to bring them in? We have services to pick-up your rugs, take them to our facility, and then deliver them back to you refreshed and renewed.
The impression you make is important, so put your best foot forward on a beautifully cleaned rug.