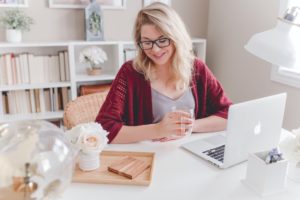 In March 2020, many office workers throughout the St. Louis area became remote workers seemingly overnight. Many of us set up makeshift office spaces to accommodate our temporary arrangement, planning to be back in the office in the weeks ahead.
Fast forward a year and many of us are still working from home with plans to continue on a permanent or hybrid basis. If you're working from home, you likely spend more waking time in your home office than you do in any other room in your house. Keeping it clean and sanitized should be a priority for both your physical and mental health.
Let's explore three actions you can take today to instantly improve quality of life and work/life balance with your home office.
Declutter and Dedicate Space
If your home office is in a multi-purpose room, it's important that each purpose have its own dedicated space. While there's been a good deal of debate over the years, studies have now shown that clutter leads to lost time and can impact our cognition, emotions, behavior, decision-making, and relationships.
Aside from the psychological impacts, it's simply impossible to keep a space clean without keeping it tidy. Go through your workspace and look for items that you don't need to do your job. If there's no reason for the item to be in the space, remove it. A simple first step to keeping your home office clean is reducing the number of items that need to be cleaned or moved to do the job.
Set Aside Time for Cleaning
With all the use your home office is getting, you may find that your normal cadence for house cleaning simply isn't enough to keep your office space clean, sanitized, and tidy. Dedicating just 15 minutes a day a few times per week, to micro-cleanings can make all the difference. This time could be used for a quick run of the vacuum on carpets and furniture, dusting surfaces and decorations, or wiping down light switches and computer components. However you choose to use it, scheduling time to clean a little bit of your home office at a time will make upkeep more manageable.
If you're spending less time in your commute, reprioritizing some of that time for office cleaning will of a long way toward creating a cleaner work environment without it becoming a major project.
Commit to Regular Professional Carpet, Rug, and Upholstery Cleaning
The single biggest factor that determines how frequently your carpets need to be cleaned is traffic. If you're up and down and in and out of your home office several times throughout the day, your carpet could be getting dirty without you even realizing it. Factor in accidental spills while eating and drinking at your desk, and you can understand why having your carpet cleaned on a regular basis by the Sams team can make a big difference in its life and longevity.
You don't have to have all the carpet in your house cleaned every time we come. If you typically have your carpets cleaned annually, you could identify three rooms that might need a six-month touchup each year in between your regular cleanings. Sams offers specials for multi-room cleanings that you can take advantage of.
Beyond carpets, the Sams team can also help with the furnishings and décor in your home office. We offer area rug cleaning services with pickup and delivery. If you have a soft chair or couch you use for breaks or reading through proposals and projects, our team has the talent and tools to keep your upholstered furniture clean and looking its best as well.
There are upsides and downsides to working from home. But taking a proactive approach to keeping your home office clean and tidy will allow you to begin each day prepared to do your best work.