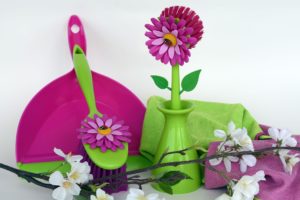 There's nothing like taking a deep breath of fresh, spring air. Spring is a time for new beginnings, and a time for people to give their house a thorough cleaning to welcome in the new season. Some people enjoy getting down and dirty to clean. Others? Not so much. Wherever you fall on that spectrum, we're here to provide spring cleaning tips and ensure your house gets the deep clean it deserves after the winter and rain.
Spring Cleaning Tip #1: Start From the Bottom Up
Everyone knows we do carpet cleaning and repairs, but did you know we also do tile and grout cleaning? You may have been able to keep the months of wet boots off of your carpet, but your entryway, mudroom, or kitchen may not have fared so well. Tile is a great product, but can also be intimidating for some people to tackling cleaning themselves. Our tile and grout cleaning process digs deep into the flooring to remove dirt and grime over-the-counter solutions can't touch. Get your tile and grout in shape for summer and ready to face the seasons ahead.
Spring Cleaning Tip #2: Cozy Up on a Clean Couch
Our upholstered furniture isn't something we put on our weekly cleaning list, but it still deserves some love and care! We carefully inspect your piece of furniture to determine the best way to clean it, whether that is dry cleaning or steam cleaning. We make sure to prep your furniture and color test on a small, unnoticeable area first. We know you love your furniture, and we clean it with care, so it will last a long time and always look its best.
Spring Cleaning Tip #3: Be Prepared for Spring Showers
Spring is notorious as being one of the rainiest times of the year, and if you have a basement that's been known to flood, all that rain may be more stressful than refreshing. We hope you'll never need it, but Sams offers 24-Hour Water Damage Restoration, every single day of the year. Our technicians are experienced and formally trained to quickly remove water from your home or business and use evaporation techniques to prevent additional damage. We also have long-standing and great relationships with insurance companies that we can help guide you through the claims process.
Whether you just want to spruce things up a bit, or if you have a larger project to tackle, we're here to help. Let us make your spring cleaning a bit easier, and put your mind at ease. Contact Sams to learn more about these and other great spring cleaning tips and services to spruce up your home ahead of the summer months.