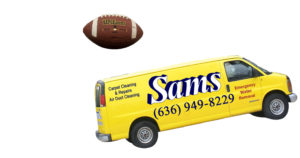 The Super Bowl should probably be considered a National Holiday, especially with all of the planning we put into the big game! We invite friends over, make snacks, stock up on beer and beverages, all to hang out with friends and family and watch the game (or commercials, there's something for everyone with the Super Bowl)! The Big Game is on February 4th and we are counting down the days to the big event.
While you're planning your big viewing party, there's one thing you cannot forget. Well, food and beer are pretty important, but don't forget about cleaning your carpets! After the crazy holiday season and the sloppy winter weather, your carpets have most likely seen better days. It's the perfect time to get those carpets cleaned before inviting all those friends and family into your home! We know there's a lot on your list, between work, family, living a busy life and then planning a Super Bowl party, so give us a call to schedule your cleaning. We'd be happy to take the stress away from you and help you to cross an item off your to-do list.
And if someone gets a little TOO excited during the game and spills a drink (we're looking at you Uncle George, know you tend to get overly excited while watching sporting events), we're a phone call away. A post-Super Bowl cleaning might be exactly what you need.
We hope you enjoy the Super Bowl, and may your chosen team reign supreme!