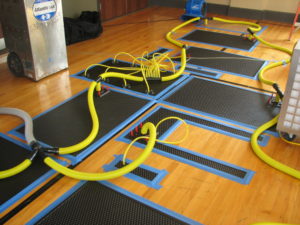 If you're dealing with water damage, it's not a pleasant experience. Hopefully you never encounter the 'splish splosh' of unwelcome water under your feet in your home or business. But thanks to bursting pipes, summer storms, winter freezing and faulty appliances, it sometimes happens. And if it happens to you, it's incredibly valuable to have someone you can trust who specializes in water damage cleanup.
The Sams team are experts in the residential and commercial water damage cleanup process. In this blog, we'll explore what you can expect from our crew if you ever face a water damage situation.
No Two Water Damage Cleanup Situations are Alike
The Sams water damage cleanup process begins with a thorough inspection and assessment.  Once we understand the extent of the damage, we will walk through a plan to explain how we're going to attack the issue and ensure we're all on the same page.
From there, we begin removing damaged debris and moving salvageable furniture and materials to prevent further problems. We then use tools to measure the moisture content in the building materials of the room so we know what we're up against and can begin to prioritize the tasks at hand.
Water Extraction and Moisture Removal
To perform the water extraction process, we use a powerful truck-mounted system to pull the water directly out of the space. This is one of the most critical steps to the restoration process for preventing future damage. But in addition to the standing water our extraction process removes, it's important that we also remove any moisture from the air, furniture, and building materials in the room. We utilize high-powered drying equipment and dehumidifiers to get rid of the moisture that isn't as visible as standing water, but equally conducive to mold and mildew growth. All the while, we continue to monitor moisture content to measure our progress in the drying process.
Mold and Mildew Prevention
The most important steps to avoiding mold and mildew is water extraction, evaporation, and dehumidification. But to go one step further, we also apply an anti-microbial solution specifically designed to prevent mold and mildew. The solution the Sams team uses is registered with the EPA, USDA/N.S.F and approved for use by professional cleaners and restoration experts. This added peace of mind ensures that when your space looks safe and normal again, it actually is.
Carpets Repaired and Construction Needs Identified
Water damage can wreak havoc on carpet and padding. But replacing your carpet is not the only solution. The Sams team specializes in returning commercial and residential carpet back to its pre-loss condition after water damage. We have a number of proven strategies for repairing and extending the life of your damaged carpet.
You will also likely need some construction repairs completed to get your space back to normal. Once we've extracted the water and ensured the room is safe from future mold and mildew issues, we will walk through the construction repairs needed. You'll have the peace of mind knowing what needs to be done, so you can coordinate with a contractor to get the work completed.
Water damage doesn't care about your plans or schedule. It's an uninvited and unwelcome guest that shows up with little warning. The most important thing you can do is address it quickly. For water damage restoration services, the Sams team is available 24 hours a day, 7 days a week, 365 days a year. You can always reach out online, but for immediate water damage restoration services give us a call at 636-949-8229.