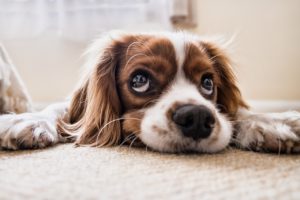 We all love Fido, but sometimes Fido doesn't love the house. If you got a puppy for Christmas, you're probably experiencing a mixture of emotions when it comes to your sweet baby angel. If your pet has wreaked havoc in your home, don't worry! We can help.
 Pet Urine
Pet urine is tricky because it doesn't always just affect the surface of your carpet, but can soak all the way down to your subfloor if it's bad. We can perform regular cleaning with the use of enzymes to destroy odor from minor mishaps. If your pet has a favorite spot, we can inspect the area for significant damage, and get all the way down to the base of the damage. Having a problem with your upholstered furniture or tile floors instead? We know how to fix that too.
Damaged Carpets
Between their teeth and their claws, pets can make quite an impact on your carpet, especially ones that were already well-loved. At Sams, we can repair any seams that are coming apart, snags, and more. We'll be able to restore your carpets, and even give a free inspection to determine the best course of action to take.
 Stains
Whether it was from an accident, or if your pet got into something they shouldn't have and tracked it all around this house, trying to remove the stains yourself can spread them around or even make them permanent. At Sams, we've seen it all, and know what it takes to get the stains out! If you call us immediately, we can get most stains out; otherwise we can patch or even dye your carpet so no one will ever know the difference.
 Odor Control
Sometimes it doesn't matter whether or not your pet's had an accident, they might just make your house smell anyway. We can clean your carpets to remove all the odors caused by pets and make them smell fresh again. We also have several odor control solutions to make your air fresh again.
We know you love your pet, so let us help you love your house just as much too. Set up an appointment today to get your house back to new!