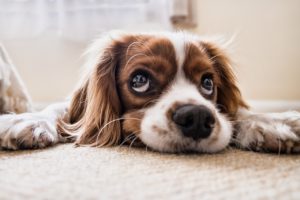 We all love Fido, and we know Fido loves us. But sometimes we don't love the wear and tear Fido can have on our home. Being animal lovers ourselves, we fully understand the cocktail of emotions pet ownership can put you through. If you've come home to a mess thanks to Fido, the Sams team has your back. In this article, we'll detail the services we offer to help homeowners overcome pet stains and damage.
Pet Urine Stain Removal
Pet urine is tricky because it doesn't always just affect the surface of your carpet. If a stain is bad enough, it can soak all the way down to your subfloor. We recommend pet owners commit to a regular regimen of carpet cleaning to prevent extensive damage. Our cleaning process utilizes enzymes to destroy odor from minor mishaps on an ongoing basis. If your pet has a favorite spot, we can also inspect the area to determine if there's been further damage, and how significant it is. We can also help with pet urine stains on your upholstered furniture.
Pet Carpet Damage Repair
You know Fido. Always curious and exploring the world around him with his teeth and claws. Pets can make quite an impact on your carpet. They have an uncanny knack for finding loose strands and turning little problems into great big ones. Sams deploys an entire arsenal of carpet repair strategies for our customers in St. Louis and St. Charles County. We can repair seams that are separating, snags that are inviting a tug, and much more. Even if Fido hasn't yet found a carpet blemish to exploit, it's a good idea to get the Sams team involved in repairing it before he does. Call us for a free inspection to determine the best course of action.
Other Pet Stain Removal
Whether it was from an accident, or your pet got into something he shouldn't have and tracked it all around the house, trying to remove the stains yourself can spread them around or even make them permanent. At Sams, we've seen it all, and know what it takes to get the stains out! But the best time to call is right when you discover a stain. With immediate attention, most stains can be removed. If we can't remove the stain, we can often patch or even dye your carpet so no one will know the difference.
Pet Odor Control
The smell of your home is a product of all the people, animals, and things that are in it. And sometimes Fido creates odors even without having an accident. Pets can leave lingering and unpleasant smells in specific rooms or throughout your home. We can clean your carpets to remove all the odors caused by pets and make them smell fresh again. We also have several odor control solutions to freshen up the air your family breathes.
We know you love Fido, even when he does something to color your vocabulary with words we won't repeat here. When that happens, we've got your back. Call the Sams team to get your carpet and furniture in ship shape in no time.