In their recent State of the St. Louis Workforce report, St. Louis Community College revealed that among the many operational changes that St. Louis area businesses have made in response to the COVID-19 pandemic, increased commercial cleaning and disinfection leads the way. In fact, 75% of companies surveyed report that enhanced workplace cleaning and disinfection are a top priority as they aim to provide a safe workplace and keep their staff healthy.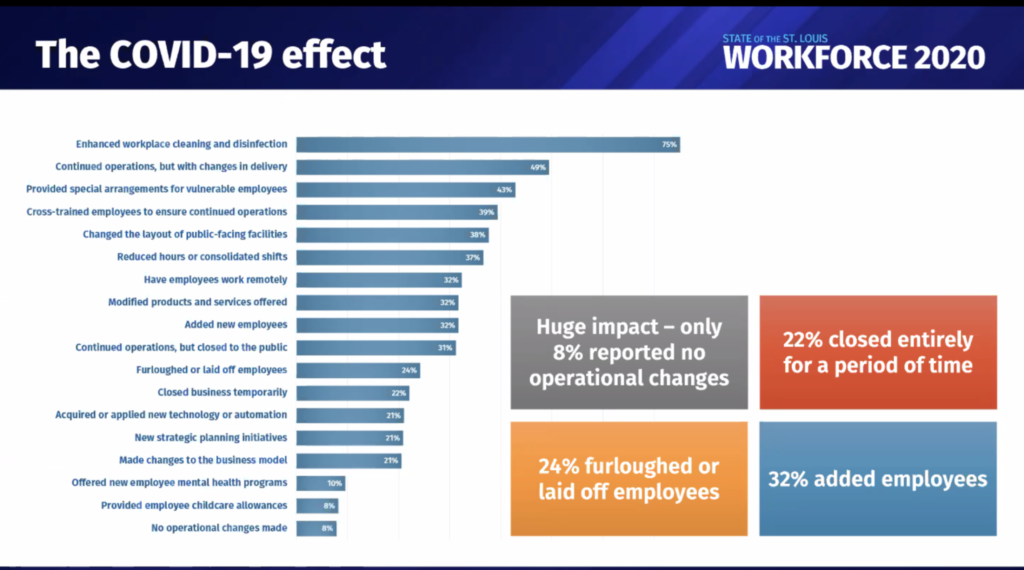 St. Louis Community College "State of the St. Louis Workforce" 2020 Report.
Every year, the winter months bring with them drier air, allowing viruses to transmit more easily, and increasing the likelihood of getting sick at work. This year, that danger extends beyond the typical cold and flu concerns. In this blog, we'll explore the role you can play in ensuring a safer and healthier workplace for your team by making disinfection services from Sams a part of your operational plan.
Clean is No Longer Clean Enough
Traditional commercial cleaning services take care of vacuuming and dusting, as well as cleaning bathrooms, kitchens, and other common areas, and then call it a day. While this approach is a fantastic way to make your office look its best, it doesn't necessarily get the job done when it comes to killing viruses and reducing the spread of infection.
That's where the team at Sams comes in. Our commercial disinfection process uses high powered ULV disinfecting fog with an EPA-certified broad spectrum disinfectant and virucide to remove all contaminants from both the air and surfaces in your facility. The end result is a safer working environment and a workforce that knows you care about their wellbeing.
How the Disinfection Process Works
As a locally owned and operated IIRC certified firm, Sams has been disinfecting commercial spaces in the St. Louis area for more than 30 years. Our commercial disinfection process is really a finishing touch to your already established cleaning routine. Prior to our arrival for disinfection services, it's important that all hard surfaces be wiped down with disinfectant, all carpets, drapes and upholstered materials be vacuumed, and hard floors be swept and mopped with a disinfecting cleaning solution. Remove everything from the counters. Any food, coffee pots, and utensils that are exposed openly should be stored in a safe closed area.
Once on site, our team will professionally deep clean and disinfect all carpeting and upholstery. We'll also provide a thorough cleaning of the air ducts and vents in the building to minimize contaminants lingering in your HVAC system. We'll then move on to cleaning tile and grout. Finally, we'll use our high-powered foggers with EPA-registered disinfectant spray to completely decontaminate the area. After we've completed the disinfection process, there's a recommended four hour vacancy period before people can return so that the disinfectant properly settles into all surfaces.
Contact the St. Louis' Area's Commercial Disinfection Pros
It's important to note that disinfection is not a one-time fix. It can be incredibly effective at reducing workplace contaminants but needs to be a part of your regular cleaning process to have the greatest impact. Contact the Sams team to make commercial disinfection a part of your facility's overall cleaning plan.