From concerts to monster trucks to sporting events and more, there are very few people in the St. Louis region who don't have some memory of an event they've attended at The America's Center. Our staff is no different. But there's something really cool about getting a behind-the-scenes look at a place like that when it's empty. So when we had the opportunity to provide carpet cleaning services at this great St. Louis landmark in February, we jumped at the opportunity.
Sometimes great work speaks for itself. Mark Gruhala, Assistant Director of Operations at The America's Center, took notice of the great work our team did in restoring the furniture and carpets at the Stifel Theatre. When he asked who the company was behind the great transformation, the team at Stifel Theatre referred him to us. After reading our story and seeing the photos, Mark contacted us for an estimate, and met with Sams President Jeff Sams onsite to conduct a walkthrough to identify areas that needed to be addressed.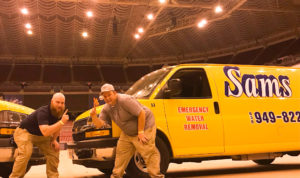 When it came time to do the job, we sent an A-team of four technicians: Ed, Jakob, Keith, and Chuck. The team was sent to address a few critical areas in the stadium that needed the most attention, including the hallway on both sides of the executive suites, the home and guest locker rooms, and some additional dressing rooms.
With a job like this, access can sometimes be an issue, but the team at The America's Center was accommodating and gave us access to all the areas we needed to be. To get the hoses from the vans to the areas we were cleaning, we needed to pull directly onto the main floor of the stadium. From there, we were able to use our high-powered carpet cleaning equipment to reach and address all the areas that needed attention.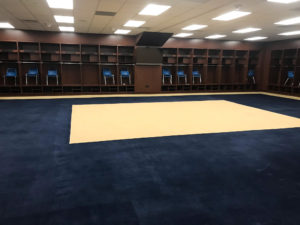 In the end, the client was very happy with the work we did. We were able to address trouble areas, restore the carpets, and prepare The America's Center for everything to come in the year ahead. In addition to The America's Center and Stifel Theatre, the Sams team has also been called on for large-scale cleaning projects at Enterprise Center, home of the St. Louis Blues.
But our trademark yellow vans have also been put to work in offices and homes of all sizes throughout the region. No matter the size of the project, we have the tools, experience, and expertise to get the job done. Contact us today to put our team to work for you!